You asked us questions last week, this week we answer.
Name: Alan1981
I think the isles need a power fwd like benoit pouliot or brian boyle. Id also like the isles to get a 2nd goalie like reimer? Do you think the isles will have a big summer and make some moves?
Christian Arnold, Islanders Point Blank:
I think the Islanders have to have a big summer.  At this point, with the move to Brooklyn looming, the Islanders can not afford to have another season like the last one. Garth snow has shown that he is being proactive this offseason with the tare for, and signing of, Jaroslav Halak. By all indications it would seem he is going to address what the Islanders need — defense and a capable backup goaltender — to make sure the team takes a step in the right direction in 2014-15.
---
Name: Matty D
IPB Mailbag: Now that we have Halak'd Jaroslav up for 4 years, what can we expect going forward? Does Snow have enough money laying around where he can sign a top 3 forward to play along Tavares and a top 4 defenseman? These are 2 things this team desperately needs.
Christian Arnold, Islanders Point Blank:
Similar to what I said in the previous question, I believe will spend this summer because he has to. The Islanders need to shore up the holes — as you mentioned a defenseman and a wingman for Tavares. I wouldn't expect Snow to go crazy and overspend like a mad man, but he will be active this offseason.
---
Name: Matt
IPB Mailbag: If the islanders could make 2 signings in the off season: 1 offensive and 1 defensive. Who should they target.
Kevin Schultz
We had a lot of variations on the off-season signings question, clearly a hot topic, and apologies to those whose question didn't make it through. Offensively, well, someone like Vanek would be ideal. With Vanek and Moulson gone, the Islanders could use some depth among their top-six forwards. Strome isn't there yet and Nelson very well could be, but I think that left wing side next to Tavares and Okposo is the biggest need offensively. Maybe Vanek would sign? Maybe.
The free agent market is always tough because there's always some team willing to overspend like crazy for a good but not elite player (see Toronto and David Clarkson last year). If not Vanek or Moulson (and I don't think there's a snowballs chance of Moulson coming back), then there are some interesting names out there: Jussi Jokinen, Mason Raymond and Milan Michalek are all left wings at around .5 ppg. Jokinen, maybe with Pittsburgh-padded stats. Anyone of those three would be nice.
Defensively, Matt Niskanen could be out there and Andre Benoit from Colorado. There are a few other defensemen (Dan Boyle, Timmonen, Markov) but they are all 35+, which is worrisome. Ideally I'd want the younger guys, but beggars can't be choosers.
---
Name: Seth
What kind of nostalgia can we expect in 2014-15 season as we close out the Coliseum? There seems to be no noise about the last year at the old barn affectionately dubbed "Fort Neverlose" in the 80s. Any plans to commemorate the 40+ seasons? Also, any further info from Barclays on how improvements will be made to watch hockey in this basketball building?
Christian Arnold, Islanders Point Blank:
The Islanders haven't announced anything formally as of yet, but I would put money that they will be doing things to commemorate the team's final year at Nassau Coliseum. I would look to the season long celebration during the Islanders 40th anniversary during the 2011-12 season. As next season approaches the team will likely start announcing plans for the final season in Nassau.
To the best of my knowledge there has not been any update on any modifications to Barclays Center.
---
Name: Adam Mertz
IPB Mailbag: With all the rumors of a new owner if the islanders get one do you think they will try and get out of the that 25 year iron clad lease in Brooklyn and try and move the team somewhere else? I hope thats not the case. Thanks again
Kevin Schultz
If the new owner turns out to be Barroway, I don't see him moving the team regardless of the lease. He was raised and went to college in the northeast and previously tried to buy the 76ers and Devils. I don't see a reason to move either or those teams and I don't think there would be a reason for him to move the Islanders to, say, Quebec. Why would Barroway want to travel to Quebec if he's a Northeast Boy?
If someone else buys the team, it's a little murkier. But I think the Islanders truly do have Gary Bettman on their side. I think Bettman wouldn't allow a team in a new arena to leave the biggest market in North America. Plus the cable deal is a stupid big cash flow for anyone to give up. Leases can be broken if two sides agree to it, but I think Barclays wants the Islanders, Bettman wants them in New York and I don't know that Barroway would be interested in moving them.
Christian Arnold, Islanders Point Blank:
I agree with Kevin. I don't think Barroway, or anyone else interested in buying the Islanders, would think of moving the Islanders out of New York. It just goes against all logic. New York is the biggest market in the country, the team is moving to a state-of-the-art arena in Brooklyn, and has a bright future in front of it. Plus the Islanders have a very favorable television deal in New York.
It would be hard to imagine a new owner, regardless of who that might be, moving the team away. The NHL would not have it either. Gary Bettman campaigned hard for the Lighthouse Project and other attempts to keep the team in New York, so to imagine him allowing a new owner to walk in and move the team is hard to believe.
The Islanders are not going anywhere regardless of ownership.
---
Name: Martin Flatley
IPB Mailbag: How close are the Islanders to being sold? Should the sale take place, what are the chances of new ownership bringing on Ray Shero and Dan Bylsma to bring this team to the next level?
Kevin Schultz
The best details on the sale I've seen from Chris Botta and the Islander Mania message board. Both of those places say the deal is done or getting close to done, so that's what I have to go with as I have no info to add.
I think it's fair when a new owner comes in to give the existing staff a year and evaluate the processes and way they do their jobs. Plus, I'd think it's fair to give the staff a full year with a bigger payroll. A full house cleaning could be more chaos than it's worth in the short term. Immediately, I would like to see an Assistant GM and President of Hockey Operations brought in. You know, serious hockey guys who could either evaluate the current staff, or provide advice and, if the President decided change is needed, he would be a person able to bring in top-notch talent like a Shero or Bylsma.
Christian Arnold, Islanders Point Blank:
I have the same information as Kevin does in regards to the sale of the team. When it's done we'll know, but these things take time and I would not expect this to get done as quickly as certain would like it to.
A change in management may not come as quick as those same fans would like either. I think the current management staff stays in place – if it's still the same people now as is if/when the team is sold – for one season before a decision is made. It's an unpopular opinion, but I don't think Snow has done as bad of a job as people believe he has and it is only fair to give him that grace period with new ownership. Same goes for Capuano.
---
Name: Chris
IPB Mailbag: Two questions for you:
1. Do you think Garth & Jack survive when the sale goes through?
2. Who do you want with the #5 pick?
Christian Arnold, Islanders Point Blank:
Similar to the answer I gave Martin, I think they do for a year and then ownership will make a determination whether they would like to make a change. To answer your second question, Michael Dal Colle could be a good option if available at five or the pick could be packaged to deal for a player to help the team now. Dale Colle is a big kid that has size and toughness. He also has the making of an NHL power forward for the future.
---
Name: Carl
IPB Mailbag: How are the Islanders planning on replacing Vanek?
Christian Arnold, Islanders Point Blank:
I would say the Islanders go through free agency to find a replacement for Vanek (aka a player to fill the void on the top line). The Islanders could give Anders Lee or Brock Nelson a chance on the top line, but I don't really see them doing that. Also considering the Isles have gone the free agency root the last few years to find Tavares a linemate it wouldn't shock me to see them do it again.
---
Name: PotvinRocks
It seems like the Isles have given up on Kevin Poulin, but Josh Bailey goes 25 games without a point and still plays in the top 6. What was so wrong with Poulin?
Christian Arnold, Islanders Point Blank:
To me part of it has to do with the risk the Islanders took to get Bailey. They clearly missed out on selecting several higher caliber players by moving down to get Bailey. I think that this is Snow trying to make sure this gamble pays off, because every year you see glimpses of the player Josh Bailey could be, but he doesn't sustain it. Kevin Poulin was not as much of a risk and he was being given the time to develop. Poulin has had some solid starts, but he's not panning out to the Isles goaltender of the future. I know certain writers online think he's an amazing goaltender, but he's not getting the Islanders to a cup. Bailey is a player that the Islanders want to pan out because of the gamble they took to select him.
---
Name: Scott
Any chance the Islanders try to trade up to grab Reinhart's brother?
Christian Arnold, Islanders Point Blank:
I don't really think so. Doing so would make a nice story line, but I don't see it happening.
---
Name: Manny
Has anyone in the Isles organization ever complain about an article you posted on IPB?
Kevin Schultz
In the years that I've been here, we've never had any complaints or "suggestions" from the Islanders on what we've written on the blog.
Christian Arnold, Islanders Point Blank:
I have never had any complaints come from the Islanders during my time with Islanders Point Blank, or with any other outlet.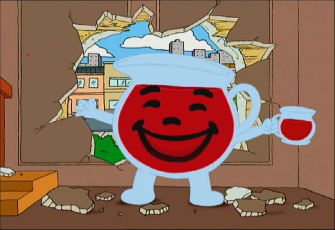 Name: Keith Quinn
If you could be any Kool-aid flavor, what would you be?
Kevin Schultz
I was always a Squeeze-It kid myself. OH YEAH
Christian Arnold, Islanders Point Blank:
I'd be Islanders Kool-aid cause it's the best kind, duh
;)
---
Name: Chris R
Do you think that Garth will finally sign Kirill Petrov this off season?
Christian Arnold, Islanders Point Blank:
I think he will try with all the power he can. The last we heard
a report in R-Sport
was suggesting that the Islanders were ready to guarantee him a spot on the roster. It will be interesting to see if this saga finally comes to a close.
---
Name: Raymond Cifelli
IPB Mailbag: Is Mikko Koskinen still property of the Isles ? If yes, is he a possible back-up or future #1 for the Isles ? He had a GREAT year in Russia this past season. Thank You
Christian Arnold, Islanders Point Blank:
Mikko Koskinen is still Islanders property I believe, but since he is under contract with Sibir Novosibirsk of the KHL it doesn't seem likely he will be back in North American anytime soon. The Islanders will likely turn to re-signing Evgeni Nabokov to play backup to Halak or the Islanders will find another NHL caliber goaltender to guard the net when Halak needs rest.
---
Name: Mike L
IPB Mailbag: I have a few questions:
1-any progress in getting new radio station?
2-any chance Bridgeport soundtigers move to refurbished coliseum?
3-is it true Isles looking to make future practice facility in armory in the Bronx?
Christian Arnold, Islanders Point Blank:
In regards to a new radio station I haven't heard anything. My bet would be it will remain on Hofstra's station for one more season and then once the move to Brooklyn takes place they will move to a major radio station in the area.
As far as the Sound  Tigers go, last summer Bruce Ratner confirmed that the Sound Tigers would be moving to a renovated Nassau Coliseum. I know there was a bit of confusion, because the Sound Tigers seemed to caught off guard by Ratner's deceleration, but I don't believe he would have said it if it was not going to happen.
I heard some murmurs about the Isles potentially using the armory, but I feel if the Islanders were to change their practice facility the new rink being built in Eisenhower Park would make more sense. Keeps the Long Island roots and it would not be any further away from Barclays than the Rangers practice facility is from MSG.
---
Name: John
"What kind of sandwich you want?"
*Pastrami and swiss.*
"Bread?"
*(C)Hala…k!*
"Please leave."
Christian Arnold, Islanders Point Blank:
I laughed way too hard at this.
---
---
---
---