THE MORNING SKATE — The Trade Deadline, It is Approachin'
Kevin Schultz
The NHL trade deadline is Wednesday, April 3rd at 3pm ET right in the middle of next week, for what should be a nice distraction at work. The Islanders have a lot of veterans that could be traded and these veterans seem to have better value than those in years past.
Two defenders, Mark Streit and Lubomir Visnovsky, are solid and could command a good return given the scarcity of good defenders around the league and the high price associated with such players. Just yesterday the Pittsburgh Penguins, who are in total 'screw it, let's go for it' mode thanks to their 12-game win streak, sent a pair of second round picks to San Jose for 33-year old rental defender Douglas Murray. This season Murray has been, er, disappointing in San Jose.
If Murray commands two picks — either two second rounders or a second and a third depending on how things play out — then shouldn't a healthy and offensively gifted Mark Streit be worth as much or more?
But Streit is complicated, given that he's the captain and that he is much more likely to re-sign with the team than Lubomir Visnovsky.
With both Streit and Visnovsky up for free agency and playing similar roles, it would make sense to deal one. It would also make sense to deal the guy who didn't want to be here in the first place. If I'm in charge, one of them has to go. It doesn't add up to face losing both of them for nothing. Which one goes depends on who I think I can re-sign.
As far additions go, if Arthur Staple is right, the Islanders might not make any:
General manager Garth Snow has not wavered from his commitment to build from within, and the team's recent three-game losing streak hasn't altered that plan. The Islanders still are going to try to re-sign captain Mark Streit, goaltender Evgeni Nabokov and defenseman Lubomir Visnovsky. They are not interested in dipping into the deadline rental market, as the Penguins did in the past 48 hours with trades for Brendan Morrow from the Stars and Douglas Murray from the Sharks.
It's no surprise that the Islanders aren't going to be trading picks or prospects for a rental. They haven't done so during this rebuild and this team quite frankly isn't good enough to warrant mortgaging the future for the now. They're only two points out of eighth, but what good is obtaining some rentals just to attempt to finish seventh or eighth and potentially get blown out by Pittsburgh? That might be better saved for when the team is already in a playoff spot and looking to make a run.
ANOTHER TEAM IN BROOKLYN?
Rumor is that the Arena Football League is looking to expand into Brooklyn's Barclays Center:
"…every year the AFL commissioner gives a
state of the league address
where he talks about what has happened to the league such as the TV deal with CBS, the CBA settlement, and other things. What caught my eye is this little bit regarding expansion:
As we head into the 2013 season, I am as pleased as I possibly could be with our direction. We've got 14 markets now – and another two expansion teams on the horizon for next year –
Now as far as I know one of the two expansion markets is New York which would play in the Barclays Center in Brooklyn, NY. It'll be interesting to see which city is rewarded with the second expansion team…"
"AEROBICS WITH ZEEKER" DVDs, NOW ONLY $19.99
Your moment of zen: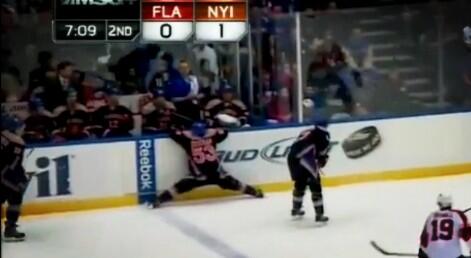 ---
---
---
---