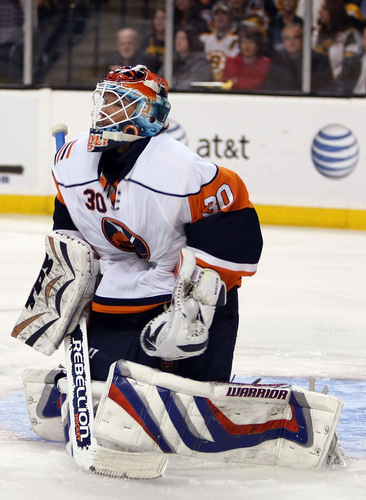 Chris Botta on Twitter
Noon, NVMC: A league source tells Point Blank that Dwayne Roloson is at the top of the Philadelphia Flyers' wish list to solve their goaltending troubles.
"Roloson's number ($2.5 million) for next year is not a hindrance in the Flyers' view," said the source. "They're looking at a few goalies, Marty Biron included, but Paul Holmgren is very interested in Roloson."
The Flyers placed goalie Ray Emery on the Long Term Injury list yesterday. By waiving Riley Cote and Danny Syvret over the last week, they have created $2 million in salary cap space – plenty enough to absord Roloson's prorated salary for this year and acquire another impact player such as Nashville defenseman Dan Hamhuis.
Other teams, including tonight's opponent – the Chicago Blackhawks - are interested in Roloson as well. Roloson, who was superb this season until his everyday work was interrupted by the return of Rick DiPietro, starts tonight.
One thing about DiPietro's setback: it gives Snow an honest reason to tell his fellow GMs, "I don't need to trade a goalie. With Rick out again, I could easily stand pat." DiPietro's absence – per Katie Strang, the GM is meeting with the goalies doctors tonight – also gives Snow cover with his fanbase if he doesn't make an impact move.
With the trade deadline at 3:00 pm on Wednesday, Snow is in strong position to acquire value for Roloson and Andy Sutton – his two trading chips of significance.
*
Bailey – Tavares – Okposo
Moulson – Nielsen – Hunter
Comeau – Schremp – Jackman
Bergenheim – Weight – Park
Streit – Hillen
Sutton – MacDonald
Gervais – Meyer
Roloson
Biron
Since the Islanders are carrying 14 forwards – Josh Bailey and Tim Jackman came off the Injured list today - Matt Martin will stay in Bridgeport until roster spots are cleared. If Andy Sutton is traded, Dustin Kohn will re-join the Islanders. Jack Hillen is also off the Injured list.
Something to look out for. If Snow is close to a trade for Sutton this afternoon, he could opt to pull the defenseman out of the lineup. Assuming DiPietro is put on IR, Snow could get Kohn to the Coliseum on time.
*
Scott Gordon on Ron Wilson's vision for Team USA: "80-90% of what we did at the Olympics as a team is what we're trying to do here. Obviously, we had more expereienced playersin the Olympics, but ultimately that's what we want our team to be."
On his team's playoff chances, the coach said losing the third period lead to Ottawa the day before the Olympic break was a tough blow. He also said the Islanders' "not easy schedule" presents a stiff challenge, but he's excited to see how the team performs.
Twenty regular season games to go, starting tonight.
*
Welcome back to Blackhawks announcers John Wiedeman and Steve Konroyd. John is simply one of the best pure hockey play-by-play broadcasters on the planet. Steve was incredibly kind to this young Islander News writer during my first season with the club. His class and generosity will never be forgotten.
Comments on this post and tonight's game.