UPDATED Tuesday, 12:35 am – As sort of predicted in the post below, the Islanders went to Katie Strang of Newsday to give their side of the story on Rick DiPietro's rehabilitation process. Point Blank stands by our story that the goaltender has not begun regular on-ice workouts and that he has not been medically cleared for practice.
It should be noted that this blog contacted the Islanders at 9:30 am Monday to let them know about our article and see if the team wished to comment. Three hours later – with no feedback from the team other than an acknowledgment they received our note – we posted the piece.
We are glad that our coverage led Rick to speak publicly on the subject for the first time in months. (He told Newsday "the only thing I want to be in the paper for is winning games.") Next up: we expect to see some photos of DiPietro doing splits in full pads to show how close he is to returning.
DiPietro scoffed at our opinion that his focus should only be on playing for the Islanders and he shouldn't be thinking about the U.S. Olympic team. "If I'm healthy," he told Katie, "why would I not want to play"?
*
(Note: a briefer version of this story was published at 12:30 pm on SNY.tv. Appreciate any support shown over there as well).
Monday, 1:00 pm – Despite repeated declarations by Islanders management that Rick DiPietro would resume skating this month, Point Blank has learned that the all-star goaltender has not begun regular on-ice workouts as of today.
Point Blank has also learned that DiPietro has yet to receive clearance from the Islanders' medical staff to begin light practices. Projections made by this blog over a month ago seem more in line with reality for the rehabilitating goaltender.
More than they ever have been, the Islanders are protected for a prolonged absence by the U.S. Olympian. Over the last two months, the team signed solid NHL No. 1 goalies Dwayne Roloson and Martin Biron. Prior to the surprise deal with Biron, AHLer Scott Munroe was slotted to be Roloson's backup but will now be a regular in Bridgeport. Nathan Lawson, a minor leaguer who gave the Sound Tigers a strong 2008-09 season, was re-signed last week after protracted negotiations and will now battle for starts in the AHL.
Although they later proved the relative simplicity of adding goaltenders the calibre of Roloson and Biron through making phone calls and writing checks, the Islanders in June used the first picks in the second and third rounds to stock the goalie depth chart. They drafted Mikko Koskinen – 21 years old and bound for Bridgeport or the ECHL- and 18-year old Anders Nilsson (staying in Sweden) when skill players at forward and defense were still available.
More than set in goal without DiPietro, the time should be near for the Islanders to be transparent with their fanbase  – and in the process lower the bar for his return date. Why continue to give the impression his return is imminent when he is not ready on August 24 for practices of any impact? Especially after signing four goalies and drafting another two.
The Islanders wisely kept the story under wraps until they were satisfied with their net acquisitions. Know this: Roloson and Biron were well-briefed on DiPietro's condition before signing here. There's no longer any reason for the silence.
The Islanders could host a comprehensive conference call with DiPietro, Garth Snow and all proper medical personnel. The doctors can provide full-disclosure of DiPietro's procedures. The goalie can humbly remove himself from the 2010 Olympics discussion and profess that his only priority is returning to the Islanders. (The talk of DiPietro still as a possibility for Team USA is absurb and out-of-focus).
If they choose to not be so open, the Islanders could issue a press release to all media. Or they could sit down with new Islanders beat writer Katie Strang, since Newsday is the lone mainstream media outlet covering the team full-time.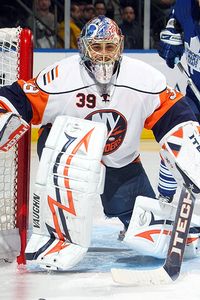 Point Blank sources say that, contrary to internet conjecture, DiPietro's career is not done. At the very least, he is far from done trying. His hips are strong but his oft-surgically-repaired knee is the root of all problems. If he attends training camp in Saskatoon, it will likely be as much for camaraderie as it will to take part in NHL practices. A legitimate target date for his full-scale return to stopping pucks is unclear.
Hopefully soon the Islanders will be able and willing to let everyone know. It would be wise for the organization to be up-front on the DiPietro story now, instead of allowing it to crash into the excitement around the NHL debut of John Tavares. With Roloson and Biron in the fold, this is no longer a competitive issue. Fans just want to know what's up with Rick DiPietro, the talented and popular 28-year old former face of the franchise.
Comments.
---
---
---
---