Chris Botta on Twitter
As the Olympic trade moratorium ends on Sunday night, Garth Snow's options in the market for Dwayne Roloson and Andy Sutton remain strong. The Islanders general manager will have 63 hours between the end of the Olympics and Wednesday's 3:00 pm EST trade deadline to make a major move…or two.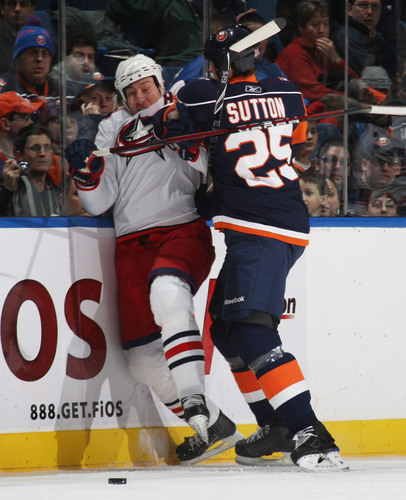 The Philadelphia Flyers were, like the Chicago Blackhawks, Washington Capitals and several others, a team considering the addition of a goaltender. With Ray Emery's status still uncertain – "He's not better, he's not worse," said Flyers GM Paul Holmgren – Philadelphia is now a team desperately in search of a proven veteran goalie. While Michael Leighton has been solid, backup Brian Boucher has not played since Jan. 3.
When you consider Roloson's strong play for the first two-thirds of this season, his low-cost contract and 2006 Cup Final resume, the 40-year-old fits the Flyers' bill.
The Blackhawks continue to consider upgrades in goal. If the Islanders would agree to absorb the talented Cristobal Huet's $5.6 million owed over each of the next two seasons, Snow could give his rebuilding program a major boost by adding a first round pick and a top prospect.
Although there were some whispers that Snow and agent Pat Morris might begin discussions on a new contract for Andy Sutton during the Olympic break, there have been none. Even if Sutton and the Islanders work out a reunion in the summer, it's now hard to believe Snow won't bring back a significant asset for the big defenseman.
Especially with so many buyers looking for a low-risk, well-rested, second-pair defenseman like Sutton, Snow should get at least one offer he cannot refuse.
There is some interest in other veterans such as Martin Biron, Richard Park and Jon Sim, but the potential return is only third-fifth round picks.
Sutton and Roloson are the prizes. The trade deadline is Wednesday. The Islanders host Chicago on Tuesday.
Point Blank Take: Since there is a lot of interest in Sutton and he is unsigned beyond this season, the defenseman has to and will go to the highest bidder before the trade deadline. As for Roloson, don't be surprised if Snow doesn't pull the trigger.
Sometimes you have to look at history. Since the Ryan Smyth deal, three years ago Saturday, Snow has made few player-for-player deals of any consequence. The biggest was the heist of a year ago when he essentially traded Chris Campoli to Ottawa for a first round pick. The trade also involved free-agents-to-be Mike Comrie and Dean McAmmond.
---
---
---
---