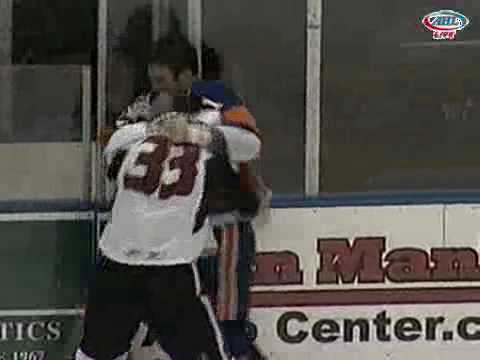 FanHouse: The Day the Devils told the NHL, "Circumvent This"
9:10 pm: It was just a year ago that Islanders management laughed at the idea of having frequent fighters in the organization, hinting at the phrase "one-dimensional" in a newspaper report. Many fans jumped on board, saying they had no use for fighters around here.
Since then, the Islanders have signed Trevor Gillies, who at 30 years of age had played one NHL game before playing 14 for the Islanders last season and Zenon Konopka, who had 2 goals, 3 assists and the most fighting majors in the NHL last season (yes, he's good at faceoffs, but he's not Adam Oates).
Tonight they signed Gillies' best man at his wedding – Jeremy Yablonski, who at age 30 has played one NHL game in his career and had too many fights in the minor leagues to count (although I know someone will). Last year in Binghamton, the 6-1, 235-pound forward had one assist and 127 penalty minutes in 27 games. Click here to see the center-ice brawl between best pals Yablonski and Gillies.
That's quite a change in philosophy in one year. Wonder what brought it on – when Chris Pronger nailed John Tavares face-first into the glass with an unpenalized cheap-shot elbow to the back of the head?
To be clear, like a year ago, I'm all for it. The kids at both Bridgeport and New York need someone to have their backs. (The great Mike Fornabaio of the CT Post tweeted that the lack of toughness was "no laughing matter" in Bridgeport. If the Islanders are not ready to contend on the ice, it doesn't hurt to win the occasional fight ("this guy throws bombs" tweeted Jeff Marek of the CBC about Yablonski). Whatever small wage the Islanders are paying Yablonski, he's worth it.
And if the Islanders and Rangers in 2010-11 are not going to remind anyone of Tonelli and Morrow and Hedberg and Pavelich in 1984, might as well give us lots of T. Gillies, Yablonski, Konopka and every Boogaard brother the Rangers can find in Saskatoon.
You know you want to go. Comments.
---
---
---
---