Islanders Point Blank on Twitter
We haven't done the Reader Q & A in a while. If you have questions you'd like to run by me, please place them in Comments over the next two days. So that I can follow along, please just file one question in each Comment and limit it to just three per reader so I can do my best to get to everyone.
I'll start replying to your questions on the blog over the weekend, unless Islanders news breaks. Thanks for your participation.
*
JAFFE'S FORWARD THINKING
A year ago at this time, Billy Jaffe was the only journalist in the Country to hint of a possible move back in the draft by Garth Snow. In a clip with Chris King and Steve Mears for ITV last June, The Jaff said he wouldn't be surprised if the Islanders cashed in the 5 for more picks later in the draft. So I had to call him to find out what the Islanders are doing on June 26.
"I think the Islanders are going to draft one of the forwards first overall – John Tavares or Matt Duchene," said The Jaff. The MSG Plus hockey analyst agreed with my prediction that Garth Snow will try to move up from pick 26 to get an additional player high on Ryan Jankowski's draft board.
"This is how I see it playing out," he said. "They get Tavares or Duchene at 1 and then one of the top defensemen on their board is still around. I'll use your number, let's say around pick 15. I feel the Islanders will make a strong push for a big-talent defenseman in the middle of the round after getting the forward they want at 1."
Jaffe also feels strongly about something I've blogged about: the Islanders need to keep their 2010 first round pick off the table.
"Look up these teams: Pittsburgh, Washington, Chicago, St. Louis, Los Angeles," he said. "I could be off by one, but I don't believe any of them moved a first-rounder when they were rebuilding. If you want to do it the way Pitt and Wash and Chicago did, the way St. Louis and L.A. are and the way the Islanders say they are, you have to hold on to your potential high first round picks. Josh Bailey, Kyle Okposo and the first pick this year are a start, but it doesn't finish the job."
One last thing. Billy asked me what I thought the fan reaction would be in three years if Tavares becomes a very good but not spectacular scorer and Duchene hits his potential as a Mike Richards-like all-around player. If you're in the Tavares camp, be afraid. Be very afraid.
LAVI IN DEVILS MIX?
Peter Laviolette may be a serious candidate for the Devils head coaching position, or maybe just doesn't want to risk killing his chances to work for Lou Lamoriello. Of course, I have no source on this. Just one of my educated hunches I never hesitate to share in this accountability-free blogosphere.
A few New York-New Jersey hockey writers called me yesterday looking for a number to contact Peter. I called the ex-Islanders coach to see what was up and get his blessing to pass his number on. Pete's one of those guys who usually calls you back within minutes. Since I haven't heard back from him 18 hours later, this is the story I'm going with.
As for Brent Sutter, best wishes to him on his return home and to his junior club. In his first season with the Devils, he drove to the Island at the last second with Chico Resch to watch the Core of Four ceremony and catch up with his old Islanders teammates. It was very clear back then, just March of his first season, that something wasn't right. Seems to me he was so charged up about working within the culture of Lamoriello – the two believe in the same hockey principles – that the distance from home was forgotten. I'm glad they worked it out.
*
DRAFT PARTY MANIA
I'm a little surprised my old colleagues at the Islanders are making a huge deal of announcing that more than 10,000 tickets have already been distributed for the Draft Party. I get that this is a big, possibly historical night for the franchise, but it will be a monumental accomplishment by fans and team if a legitimate crowd of more than 10,000 shows up. Draft parties are nice events with some players around, a locker room tour and oh, BTW we just happen to have some season seats for sale. But in the end, it still comes down to watching VERSUS on the Coliseum scoreboard on a Friday night after school's out for the summer.
At this rate, it would seem likely by draft week that the Islanders will announce that more than 15,000 fans have picked up tickets to the event. By playing up the distribution of more than 10,000 tickets (and counting), the Islanders are risking the actual attendance being perceived as a letdown if "only" 8,000 show up. The Islanders have never had a hyped-up star like John Tavares staring at them in the face, but they've never had more than 3,000 at any draft parties of the last decade. They have had plenty of games without crowds of 10,000. If at least 8,000 people drive to Uniondale to watch the draft on the scoreboard, that should be cause for celebration – not disappointment.
I'd love to be wrong on this one. Let's see more than a real count of 10,000 fans show up at the Coliseum on June 26. As of today, I still don't know if I'll be in Montreal for the draft or Hempstead Turnpike for the Draft Party. I'll say this: if I knew for sure the Islanders were taking Tavares, I'd confirm my plans for Montreal. If I knew for sure they were passing on Tavares, I'd blow off Montreal and wouldn't miss the draft party for the world.
*
THE POINT BLANK TOP 6 FOR 6/26
(not a mock draft)
1. John Tavares
2. Victor Hedman
3. Matt Duchene
4. Magnus Paajarvi-Svensson
5. Jordan Schroeder
6. Ryan Ellis
Yup, we're saying size is overrated.
*
LARRY EXPLAINS MY TAVARES VOTE
Almost two months after the Islanders lottery victory, I've yet to adequately articulate why I feel the choice for the Islanders has to be John Tavares. It's not that I have a thing for him as a player, it's that, well…Larry Brooks in his Sunday column on the Rangers needing a star scorer explained it perfectly…
If we've learned anything from this year's playoffs, it's that it is impossible to thrive in the NHL without elite offensive talent.
Larry lists some of the great offensive stars in the league, Malkin and Crosby, Ovechkin and Semin, Eric Stahl and then writes…
The Rangers have no one remotely comparable. Fact is, the Blueshirts do not have a forward who would be selected in the top, what, 100 in a league-wide dispersal draft.
And then he really chrystallizes why I was in favor of a complete tear-down and rebuild for the Islanders…
It has become nearly impossible to get a top-end, difference-making talent any way other than bottoming out and hitting the draft lottery jackpot, for it is rare indeed that an elite player gets to free agency in his prime.
The Islanders have to decide if John Tavares has the upside as a scorer vs. the two-way defense of Victor Hedman and all-around play of Matt Duchene. If they know Tavares is going to be at least a 40-goal scorer someday, I don't know how they can pass him up.
*
LIGHTHOUSE BASH ON THURSDAY
Okay, so it's not a bash but it's being pitched as another important step. The Lighthouse Development Group will present an update on the project to the Nassau County Planning Commission on Thursday at 6:30 p.m. The meeting is open to the public and will be held in the Nassau Legislative Building in Mineola.
Charles Wang and Tom "The Broker" Suozzi will be there. From the LDG's advisory: "The Nassau County Planning Commission is an important part of the approvals process as it will need to approve a subdivision plan before construction can begin."
On a side note, more than a dozen readers emailed me the story about the Brooklyn arena scaling down from the original Frank Gehry design and without room for a hockey team. I was supposed to accept this news as Brooklyn no longer being an option for the Islanders. Sorry, but I'm not buying. In these developments, as we continue to learn, everything is subject to change on a daily basis.
*
THE SWEDE FROM NEW YORK
In the final installment in the PB series we like to call Conversations with Swedes, here's my recent phone conversation with potential first round draft pick Tim Erixon. The 6-2, 195-pound defenseman is the son of former Rangers forward Jan Erixon and could be available if the Islanders use their selections at 26, 31 and 37.
I know you were born in New York when your dad was with the Rangers, but how long did you live here?
Just when I was a little kid. We moved back to Sweden when I was 2 and a half years old.
Did you meet with the Islanders at the Draft Combine?
Yes. I thought we had a really good meeting.
How many teams did you interview with at the combine?
29 out of 30. Every team except for San Jose. (Note to readers: the Sharks, who have drafted well, are known for having limited meetings at the combine).
Do you think the Islanders are considering drafting you?
Maybe, I guess. Their interview stood out. They knew a lot about me and asked a lot of questions about my play that would seem to show they have some interest. Still, I'm told you never know about this process. Maybe San Jose picks me.
Any other teams show what you would consider extra interest in you?
A few. New Jersey had me stay on Sunday after the combine for an extra session. (Note to readers: The Devils, who have also drafted well, are known for requesting additional time with certain prospects after the combine is over).
Do you still have a connection to the Rangers?
Not really at all. My dad played for them and I'm proud of that, but I don't have any memories of it. Right now, I like all the teams in the NHL.
So if the Islanders draft you, this won't be a problem?
(laughs) Not at all. I'd love to come back to New York.
*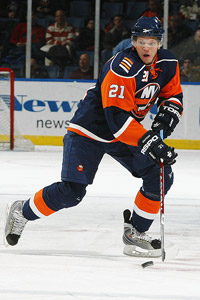 NYI SEASON SEATS AT $24 PER
As you probably heard, the Rangers announced via a letter from Glen Sather that season ticket prices have been raised. I'll have more on Islanders ticket prices at another date, but one issue stood out when I was going over the Rangers' increases.
The Rangers have seats in the top third of the Garden that are now at $62 per game as a season ticket. I checked with an old friend from the sales department and asked him to give me two of his best deals. When you consider the sightlines of the Coliseum, these are pretty good. (Of course, the team has to start winning a lot more).
My guy in Sales tells me the Islanders are offering a season seat in the endzone 300s at $24 a game. According to him, that's down from $30 last year and it's the lowest that seat has been since 2001-02.
When I asked what he has closer to center ice in the 300s, the pricepoint is $34 a game, $5 less than last year and also as low as it's been since '01-02.
If you commit to two seasons, you get a price freeze and your first two rounds of any playoff games over those two years – settle down, Beavis – are free. There are also payment plans and you get all the perks, like the autograph event with the players. The number is 1.800.882.ISLES. Tell them Point Blank sent you, so they understand a few people read this blog.
I welcome a discussion on the Islanders' prices in the Comments space.
*
SNAPPERS
No, the Islanders are not trading for Dany Heatley. They don't have anywhere near the pieces to get it done. Or if they think they do, they shouldn't. Second round picks and second-tier players won't get you Heatley. Next subject.
NBC's coverage of Game 6 last night came out of commercial at 10:25 pm with 5 minutes left in the game. There were no commercial breaks until they went off the air at 10:58 pm. Pierre McGuire interviewed three Penguins while Doc and Edzo and Mike and Panger threw it back and forth. Good for the viewer, but makes you wonder about the lack of advertising…
On the subject of broadcasters, I asked recently-bounced Panthers analyst Denis Potvin about what's next for him when I wrote the Tavares-Hedman story. Denis is actively pursuing commentator positions. I know there could be some openings with other teams and at the national level this summer (not with the three NY-NJ clubs). Here's hoping Denis lands a good gig.
Word out of Islanders Country is that the team will once again have its radio broadcasts with the Long Island Radio Group and continue to try and fill in the holes in the metropolitan area where WMJC (94.3 FM) does not reach. And, of course, games will continue to be heard on XM Radio.
Remember the days when New York sports editors didn't even have to think about sending at least one writer to the Stanley Cup Final? It really wasn't that long ago. Now we have Crosby and Malkin against the incredible Red Wings and most major U. S. newspapers are not covering it. Sad. Glad to see the Washington Post is giving the Final he play it deserves.
New York Sports PR 101: if you have to announce something – say, a head coach quitting – but don't want a lot of press, here's how you do it. Have a conference call on the day the Yankees play in Boston, the Mets host Philadelphia and the Penguins and Red Wings meet in Game 6.
One of the many things I've learned doing this blog is that if you really need to make your point in a hockey argument, you can always find something to cite. Who needs Hedman? Oh yeah, look at what Lidstrom has meant to Detroit. The need for a scorer like Tavares is overrated? Oh yeah, look at what it's meant to Pittsburgh and Washington. Hedman? Bill Torrey built around defense! Duchene? The dynasty's nothin' without Trots! You get the point…
For the record, if we're talking about Duchene or Hedman, let me be clear: yes, I would definitely hypothetically trade the first overall pick for Evgeni Malkin.
Comments.
---
---
---
---