12:45 am – Point Blank spoke with Islanders forward Kyle Okposo on Monday night.
Are you in New York yet?
Nope. Home watching the U.S. Open tennis at home. I'll be there on Thursday.
You're at your folks' house?
I bought my own place in Minnesota. Moved in early this summer.
Tell us about it.
Nice, modest. Not far from the city (Minneapolis), not too close. It's got everything I need.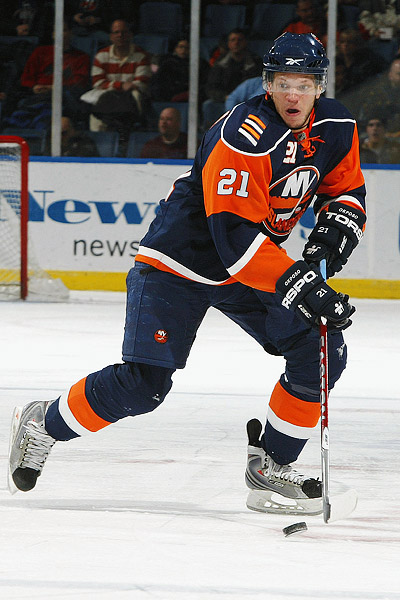 When do you start skating at Iceworks?
I don't get in on Thursday 'til after they're done, so I'll start with the group on Friday. I hear a lot of guys are rolling in. Really looking forward to getting started.
Not that hockey players let themselves get out of shape in the offseason anymore, but with the Team USA orientation camp you really couldn't let yourself take a break at all.
I've been skating for about five weeks now. You're right – I had to be ready for the USA camp. I think the whole offseason should have me extra prepared for Islanders training camp and our season.
What was the best part of the Team USA experience?
Just the privilege of being part of it, getting to know everyone. The talent there was incredible. Better than that, all the players were really good to me. The whole thing was something I'll be able to learn from and take with me for a long time.
Where does it go from here? It's not like World Juniors, where there's another tryout camp. When do you find out if you made it?
We just go back to our teams and play the best we can for our teams. I'll find out like everyone else in late December.
How do you manage to keep your focus on the Islanders and not think about making or not making the Olympic team?
That's easy, to be honest with you. Everyone is going to be judged on their play within the concept of the NHL teams they play for. If I'm not playing well, if I'm not doing everything I can within the Islanders' system, I won't make it. Easy as that. I have to get off to a good start – not to make the Olympic team, but for the better of my team.
What's the next step for you in your NHL development?
The same issue, it's about starting well. I didn't last year, and that was frustrating. So for me the next step as an NHL player is figuring out how to get out of the gate a lot quicker than I did last season.
What did you learn about your slow start from last year?
That I can't do that again! I'll be ready. Besides the USA camp, I've been working out and scrimmaging with a lot of NHL players from my area. It's a very good situation for me, getting that experience with this group from Minnesota. Conditioning and being hockey-ready won't be a problem. I just have to learn from my mistakes of last season.
Who are some of the players we might know that you've been skating with?
Jon Toews, Jordan Schroeder, Zach Parise, Drew Stafford.
Have you met yet with John Tavares?
I spoke to him for a little while after he was drafted, just to congratulate him and let him know I'm there if he needs anything. Great player. Can't wait to get to know him better and be his teammate.
How much time have you spent on Long Island this summer?
I've been in a few times – once for a week of appearances for the team and also a few visits for personal stuff and to see friends. Long Island in the summer…nice spot.
Favorite area?
You can't go wrong with Huntington at night. Great town to get dinner and hang out with friends.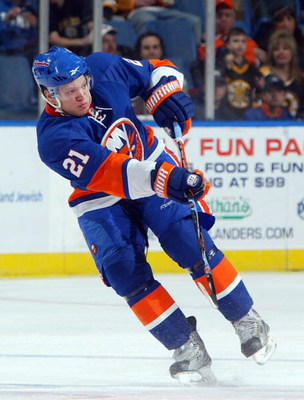 Were you able to go on any vacations?
That didn't work out the way I planned. I went to Las Vegas for a few days for the Players Association meetings. I thought when the summer started that I would get away, but life got busy and the offseason went fast. That's okay. I'm really excited for our season and I'm ready to start playing hockey again.
I've heard the old Delta House living arrangement on the Island with you and Gervais and Bailey and Jackman and the rest was being broken up.
Yep. I have my own place now, not far from Iceworks or the Coliseum.
I think it was Jackman who told me that you guys were the closest of pals, but it would be more ideal for you to live near each other – just not in the same house.
You got it. That is what we've done.
Comments.
---
---
---
---