12:13 pm – As expected, Brendan Witt has cleared waivers and will be sent to Bridgeport of the American Hockey League.
Witt, who was signed to a three-year, $9 million contract extension a few days before Ted Nolan was fired and replaced by Scott Gordon, has never thrived in the coach's system. Now he goes to the minors for the first time in 13 years. In his pro career, Witt had only played 30 games in the AHL.
If a contender needs a defenseman before the trade deadline, perhaps they will scoop up Witt on re-entry waivers. For little money in March and just $1.5 million next season, Witt would be an outstanding asset in the right situation. Given the chance on a contender to prove he's still got something left, you know Witt would go to the wall for that team.
The Islanders have told Katie Strang of Newsday that they don't plan on putting Witt on re-entry waivers. That's their way of sending a message to the other 29 teams that they'll have to trade for him. Good luck with that.
*
Six games left for the Islanders until the Olympic break, and now all of them are crucial because of the current five-game losing streak. The Islanders need wins over the next ten days to carry the good feelings of a fairly-decent season into March. Allowing this slide to get much worse would take some buzz away from the team post-Olympics.
Before facing the exhausted (this week in Edmonton, Calgary, Buffalo on Friday) and possibly Cam Ward-less Hurricanes at the Coliseum on Saturday, the Islanders will need to find a way to get at least a point tonight in Tampa Bay. Since the Lightning are in the Logjam of Mediocrity in the East, a rare regulation victory would be more like it.
The Islanders get another look tonight at 2009 first overall pick Steven Stamkos, who continues his ascent as a star. He has 29 goals in 55 games this season. In his first 15 games of 2010, Stamkos is 8-12-20. Quite a challenge for Andy Sutton and the blue line boys.
Look out for Steve Downie (11 goals, 155 penalty minutes) to agitate and Ryan Malone (21 goals) in front of the net on the power play. 2009 second overall pick Victor Hedman is -4 and averaging just under 22 minutes a game. For a rookie defenseman who just turned 19, Hedman has shown enough over his first 52 NHL games to prove he'll be what scouts forecasted.
Nate Thompson – have the Islanders won since he left for free? (just funnin', folks) – has won 26 of 39 faceoffs and is averaging 13:07 of ice with the Lightning. On the other hand, the grinder doesn't have a point in his five games with his new team, so the Hate Down With Nate crowd have that going for them…which is nice.
The Lightning do have some distractions. They are in the process of being sold again.
Jeff Tambellini returns to the lineup for the Islanders after playing twice in the last two months. Despite scoring 7 goals in 24 games – Ovechkinesque numbers on this squad – Tambellini last played on Jan. 2. Tambellini is playing, of course, because there in no one left to play. Josh Bailey is out until the Olympic break with an upper-body injury.
If Tambellini or any other forwards falter, don't be surprised if Jesse Joensuu is called up. After tonight, the Islanders are at the Coliseum for four of five games before the Olympics. The 6-4 Finn is 10-19-29 in 44 AHL games this season – two points behind leading scorer Sean Bentivoglio despite playing in seven fewer games.
With Witt gone, the Islanders' defense remains Mark Streit, Andy Sutton, Andrew MacDonald, Bruno Gervais, Freddy Meyer and Dustin Kohn. Mark Katic is the best prospect in Bridgeport, but even his biggest supporters know he's not ideally ready for prime time. Rushing defense prospects to the NHL is not part of the Islanders' plan. If they need to recall a defenseman, their best option is Brendan Witt, but they'd have to put him through re-entry waivers.
The U.S. Olympic team is hosting a media conference call to announce the two injury replacements on defense for Paul Martin and Mike Komisarek. The selections are Ryan Whitney of Anaheim and Tim Gleason of Carolina.
*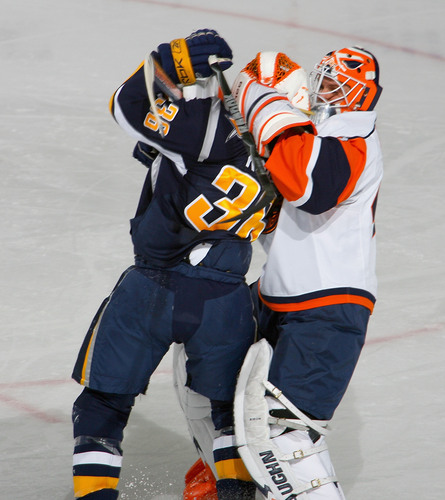 Biron in Bridgeport: Making it a combined $4.4 million in a pair of NHLers in Bridgeport, goaltender Martin Biron will play for the Sound Tigers this weekend. Sounds like the conditioning stint was Biron's idea.
"We talked to Garth about getting into game shape," said Biron, who has not played in a game since Dec. 27. Biron said he had the option of staying with the Islanders in Florida until Thursday, but "I wanted to get in a few practices and get ready for the games.
"You have to play games on a consistent basis to get your rhythm back. With the Islanders' schedule, many of the practices are short so I would try to get in whatever work I could before and after. This will help a lot."
Biron said he was excited driving New York to Bridgeport on Tuesday night because he cherished his memories leading Rochester to a Calder Cup final a decade ago and the AHL was very good to him for two years. "I also like spending time with the young players," said Biron. "If I can help them in any way, I will."
The Sound Tigers are in Springfield on Friday and host Manchester on Saturday. Count on at least a half-dozen scouts at the game in Bridgeport. A good showing by Biron could result in a roster spot with another NHL team this month and a mid-round draft pick for the Islanders.
*
Most Valuable Blog: I wrote about this earlier in the season, but it merits another mention. For the few of you left who do not read Lighthouse Hockey every day, it's time you  bookmarked it. Dominik, whose site is more about Islanders hockey than the arena project, has only stepped up his game over the last few months.
He's not even based in New York, but Dominik works his tail off and comes up with the stuff I was only able to do last year in my full-time daze days. He speaks with Travis Hamonic. He provides heady statistical analysis. He has fun with bad rumors (Brendan Witt for two draft picks…gotcha). The site also has a message board area, called FanPost, where readers can bring up any Islanders topics they want to discuss.
Don't make me say it again. Lighthouse Hockey – go there before ever thinking of coming here.
*
A Valentine from Brooklyn: Here is Brooklyn borough president Marty Markowitz yesterday in his State of the Borough Address:
Of course, in 2009 confident investors also rushed to buy bonds for Atlantic Yards – meaning they believe Brooklyn is the future. Soon we will have affordable housing, union jobs, and the downtown cultural center that the fourth-largest city in America deserves – with a state-of-the-art arena hosting everything from music and theater to pro basketball. And maybe even a hockey team called the "Brooklyn Islanders!"
Okay, so the crowd did not exactly go nuts when Markowitz yelled "Brooklyn Islanders!" but it's still nice to know he was thinking of the hockey team.
*
One last thing. To the conspiracy theorists and the Garth's-Got-Something crowd:
Brendan Witt was injured. He was playing with a bad knee for over a month.
Josh Bailey is injured. When an Islander suffers a serious injury on the road, the doctors don't go to the team – the player goes to New York.
Even if the Islanders wanted to be mischievous, the punishment for going against the CBA does not make it worth the gamble.
In the last few weeks, the Islanders have gotten nothing for or out of Nate Thompson, Jeff Tambellini, Martin Biron and Brendan Witt. Call it a "team in transition" if you'd like, but it would be nice to start seeing some real action…or results.
Comments on tonight's game and this post.
---
---
---
---