"There's got to be something better than in the middle."
Jakob Dylan, The Wallflowers' "One Headlight" (1996)
There may be no better explanation of Garth Snow's approach to his rebuilding program. Fearful of finishing between 14th and 24th in the NHL – and forever being consigned to the middle of the first round of the draft – the Islanders are rolling the dice.
By staying at the salary cap floor and not taking short cuts with the addition of a few skilled young veterans via free agency or trade, the Islanders are counting on the development of their young players – and the patience of their fanbase.
The process could be very rewarding at the end, but trying times are ahead – at least for one more season.
*
Tavares – Weight – Okposo
Bergenheim – Nielsen – Hunter
Comeau – Bailey – Park
Tambellini/Sim – Thompson – Jackman
Rechlicz
Streit – Gervais
Witt – Martinek
Sutton – Meyer/Hillen
Roloson
Biron
Who knows if I got even a single line right? Who knows if Tavares will play the wing or pivot? Not the point. These are your 2009-10 New York Islanders. Love them for who they are, and what they could turn out to be. But keep your expectations realistic, and don't worry about having to save up for playoff tickets.
*
It's that time of the summer when the season predictions start to roll in. The Hockey News kicked things off by forecasting that the Islanders will finish dead last in the Eastern Conference.
Predictions like these are usually followed by rants ripping on the credibility of the media outlet. These rants from the faithful are usually followed by similar predictions on blogs and message boards by those same fans.
Last season, less than 20% of fans on the team's own official message board Islandermania thought the Islanders were going to make the playoffs. A large majority had their favorite team finishing somewhere between 12th and 15th. (Cockeyed optimist that I am, Point Blank picked the Islanders for 11th. Oops.) I suspect the predictions will sit between 13th and 15th this season – by the media and most fans.
Right now, I would pick them 13th in the Eastern Conference. I have no idea which teams they will finish in front of. Since the goalies and the kids will help them win some late-season games, 13th just sounded right.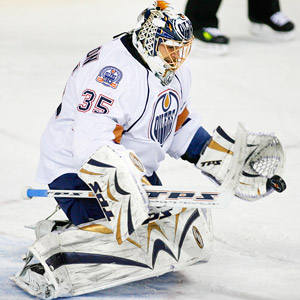 Yep, Dwayne Roloson and Martin Biron are an improvement over last year's goaltenders, but it would be a miscalculation to make too big a deal of that.
John Tavares will make them better, but a teenager without any acquired veteran offensive assistance can only do so much. Tavares will never be touted as a player like Alexander Ovechkin who can generate scoring chances by himself. A victory for the Islanders this season is Tavares scoring 25 goals.
And yes, the lineup should not experience the injury trainwreck of a year ago. Then again, wishing for at least 75 games from Radek Martinek and others who haven't played a full season in a while may not be a good use of your hockey god wishes.
A lot of folks in the Country are saying that between improved health, Tavares and the goaltending upgrade, the Islanders have to be better. Yes, they will. That's all well and good. The bigger problem is, just about every team in the Eastern Conference will be better.
As for those pointing to anticipated growth from Kyle Okposo, Josh Bailey and Frans Nielsen, the Islanders are not the only team in the NHL with young players. Okposo, Bailey and Nielsen will be better…whoop de darn do. So will Brandon Dubinsky, Ryan Callahan, Artem Anisimov and Marc Staal. So will Crosby, Evgeni Malkin and Jordan Staal.
Point is, everyone has talented young players. The Islanders have some very good ones in Tavares and Okposo. What they don't have are any top-6 forwards and top-4 defensemen banging on the door in Bridgeport.
The Islanders are in a rebuild, and they are sticking to it. The inability to acquire toughness, at least as of today, is a mistake. Whether it was wise not to add young veterans up front (Alex Tanguay) or on D (Francois Beauchemin), I guess we're going to find out.
But those decisions are why the Islanders again will not be in the playoffs. They are why, if you're an Islanders fan, you would likely sign up right now just for the chance of "meaningful" games after the Olympic break.
It is why it will be fascinating to see if the same fans – and everyone else around the team – who gave their blessings to not adding talent will be able to keep their cool when the losses pile up.
Are you in it for the long haul? The Islanders seem to be.
*
Islanders prospects Aaron Ness and Matt Donovan remain in the running for Team USA at the World Junior Championships after the team cut its roster to 29 players. Ness (2nd round, 2008) is a sophomore at Minnesota, Donovan (4th round, 2008) is a freshman at Denver.
We asked a veteran NHL scout – not affiliated with the Islanders – for his notes on the first weekend of WJC evaluation camp for Team USA in Lake Placid over the weekend. Our scout was one of more than a dozen NHL personnel in Lake Placid, which included Islanders scouting director Ryan Jankowski, Maple Leafs VP Dave Poulin and Atlanta bosses Don Waddell and Rick Dudley.
"I think Ness will make the team," said the scout, who requested anonymity. "That seems to be the feeling of people I've spoken with, and I feel he deserves it. He didn't play his best over the weekend, but the U.S. development program knows what he can do.
"He's an excellent puck-mover, joins the rush, great first pass, great hands and vision. Time will tell in a few years if he can play defense against the bigger guys in the NHL, but I would bet on him. He has the mobility and the smarts. You look at a guy like Mark Streit, who's not the biggest defender. I think Ness can look at Streit as a model for what he can be in this league."
We asked the scout about a few other Team USA topics from the weekend.
On Matt Donovan: "He was a long shot coming in and could end up being one of the final cuts, but he has done himself proud with his camp so far. He has good poise, good vision. Like a lot of kids at this stage of their development, he needs to work on his feet. Donovan's a good prospect, especially from the fourth round."
Most impressive players in camp so far: "Tops for me was John Carlson, Washington's first round pick. "Great size (6-3, 200), ability in both ends, strong right-hand shot. He'll be a good NHL defenseman, I don't think there's any question.
"Jordan Schroeder, Vancouver's first pick this year, showed why some people thought he slipped too far. He had 8 points in the 3 games. A lot of offensive ability with that kid. (Schroeder, like Ness, is a generous 5-10 and a sophomore at Minnesota). I also was impressed by Derek Stepan from Wisconsin (Rangers' 2nd round, 2008). Really good hands and instincts. He has the ability to develop into a strong NHL center."
Team USA plays four exhibition games this week in Lake Placid against the campers from the Russian National Team. Team Russia includes Islanders' 2009 late round pick Anton Klementyev.
By the way, top Islanders prospects Calvin de Haan and Travis Hamonic are said to be doing okay, not spectacularly, in camp this week for Team Canada. Said one observer in Saskatoon, "They need to play within themselves."
And finally, did I mention likely 2010 top-5 pick Cam Fowler is still in the Team USA lineup in Lake Placid?
Your prediction for the 2009-10 Islanders, and anything else related to this story, in Comments.
---
---
---
---