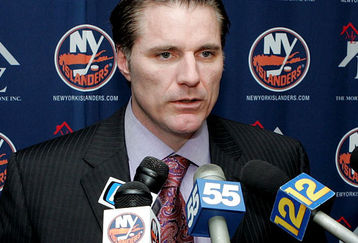 Chris Botta on Twitter
12:15 am, NVMC: When Garth Snow prepared to close up shop at his Nassau Coliseum office for the night, he'd yet to receive an offer for Dwayne Roloson that was strong enough to seriously consider.
Point Blank has learned that the best offer for Roloson as of late Tuesday night was a third round pick. Unless the proposals improve, Roloson will remain an Islander.
It makes little sense to move Roloson – arguably the Islanders' most valuable player this season, showing no signs of slowing down at age 40 – for just a third round pick.
With more cap space than every Cup contender combined, Snow also has the option of using it to his team's advantage. (The Cristobal Huet option I wrote about on the blog on Feb. 25 certainly has taken on a life of its own on Twitter).
My friend Elliotte Friedman of "Hockey Night in Canada" has written that the Blackhawks really want Tomas Vokoun from Florida, but Snow could benefit by giving Chicago cap relief in a separate deal.
The more complicated deals get as 3:00 pm EST approaches, the more likely they are to crater.
If a Roloson trade does not work out, the Islanders will consider their highest bids for Martin Biron. Snow will not give Roloson or Biron away.
The Islanders are planning to hit the ice for practice today at noon. There's a chance not everyone on the current roster will make it.
*
In other news, I'm told the Islanders should be able to provide an update on Rick DiPietro sometime today.
Comments.
---
---
---
---