Click here to follow vacationing/on-assignment Chris Botta for the next four weeks on Twitter
Kirill Petrov loved his visit to Long Island and his stay at Islanders prospect camp last month. He has a deep appreciation for Josh Bailey welcoming him into his Nassau home for a few days to show him around the community when camp was over. Petrov's agent, Sasha Tynjynch, hopes his 20-year-old client will be part of the Islanders organization in 2010-11.
Over the next few weeks, we're going to find out for sure.
The skilled and powerful Petrov remains under contract to the Kazan Ak Bars of the KHL for the next two seasons. Currently, Petrov is with Ak Bars' top team in their training camp; he played primarily at the "B" level the last two seasons. His shoulder, which was surgically repaired two years ago and kept him out of the NYI intrasquad prospect scrimmage last month (merely as a precaution) is said to be 100%. Petrov will get a good test when Kazan plays exhibition games on Aug. 19 and 21 and takes part in a tournament at the end of the month.
Soon after, we'll know what Ak Bars has in mind for him.
"The plan has always been for Kirill to attend Islanders training camp in September," Tynjynch told Point Blank in a phone conversation this afternoon. "That plan has not changed. I would like to see Kirill with the Islanders. I know Kirill would like to be in the NHL, too. What we don't know right now is whether Ak Bars wants to keep him. One thing I have learned in this business of dealing with top Russian players, the KHL and the NHL – you have to be prepared for anything."
In the worst-case scenario, Kazan insists on keeping Petrov since he is contractually their asset. This would not, however, be the worst thing for the young player. To play consistently on one of the top lines for a KHL powerhouse like Kazan could benefit his development.
Of course, in the best-case scenario, Kazan lets Petrov go and he battles for a top-nine forward spot with the Islanders. At prospect camp, coach Scott Gordon hinted that he would be a contender.
"Kirill has good feelings about the Islanders – how they have treated him since they drafted him and how they have worked with him," said Tynjynch. "He is very determined to show the Islanders what he can do and make the NHL soon. Before the Islanders prospect camp, Kirill went to Ottawa to work with a power skating coach for a few weeks. He has put in all the hard work and feels like he is ready."
It's just a matter of negotiating an Entry Level contract, and Kazan Ak Bars letting him go. We'll know in a few weeks.
*
Town of Hempstead attorney Joseph Ra has given up his Islanders season tickets, according to a well-placed source. As some of you may recall, the genial Mr. Ra is one of Kate Murray's right-hand people in the battle over the Lighthouse Project. Through it all, he has always been public with his deep devotion to the hockey team.
We traded a series of phone messages over the last week, as I attempted to learn Ra's reasons for ending his run as an Islanders season subscriber. If we connect, I'll let you know. (The Islanders, citing customer confidentiality, would not confirm). Ra giving up his Islanders seats may not equal the $100 million-plus transaction of Scott Rechler selling the Marriott back to Charles Wang, but when it comes to the Lighthouse – as the guy says in the movie – "It's a sign"!
At least the Islanders will be playing somewhere in New York in 2015. This is what I have consistently been told by impeccable sources for two years, and I believe them.
*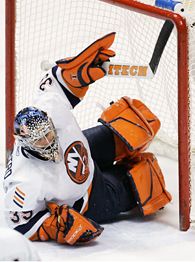 For the last month, I've heard nothing but positivity about the health of Rick DiPietro. This is wonderful news for the Islanders, their fans and a 29-year-old man with several years potentially ahead of him to do what he loves best. This is also in stark contrast to what I was hearing at this time last year, when the Islanders jumped through hoops to deny my August, 2009 report that DiPietro still had a long way to go to get 100% healthy and play a lot of NHL games. He played 13 over the last two seasons.
Nevertheless – and no one needs to tell Rick this – the only way he could begin to say his knee injury is behind him is after he plays 40 games in an NHL season pain-free. All the rest – the team updates, the manicured Twitter Q & A – is noise. Let's hope for the best for the talented and dedicated DiPietro.
There are many reasons why the Islanders have not added another major league goaltender to the roster, but two essential ones. For starters, management has no interest in having an encore of the Roloson-Biron-DiPietro show from last season. If DiPietro misses game action, Nathan Lawson will back up Roloson and get the occasional start. Should Lawson ever go weeks without playing, he could be sent to Bridgeport for action and Mikko Koskinen could join the Islanders.
On top of this, there is simply no urgency to sign one of the NHL goaltenders still available. Should the Islanders be faced with having to add an experienced goalie in November or January or whenever, they should be able to locate a fine one inexpensively. If the Islanders add one in the next month or two without trading Roloson, it will tell you a lot about DiPietro's latest prognosis (none of it good). From the good reports I'm hearing about DiPietro's knee, I doubt they'll add another goalie before camp opens.
By the way, it says a lot about the respect DiPietro has around the league that in every NHL locker room I reported from last season, opponents asked about him. To a man – some who know DiPietro, some who don't – they expressed concern, along with respect for his skills and dedication. They all know it could happen to them.
*
Could Fred Wilpon have come off less interested in the Islanders-to-Queens story when he was asked about it last week? There was one obvious PR clue: he couldn't even bring himself to mention Charles Wang – a man of stature in business and sports in New York – by name. It's up to "the owner" and what "he" wants to do. Said that a few times. Pretty dismissive. On the other hand, it's Wilpon's son, Jeff, who is more hands-on in any possible move of the Islanders to Queens.
I get these kinds of emails a lot, but this one from Dominick D. made me laugh out loud when it arrived on the Blackberry just as we were walking out of church on Sunday:
Chris: Need some more updates on the arena situation. Everything else (camps, jobs in the organization, retread signings) are not important. Want to know what the latest plans are for Wang and his group to stick it up the Town of Hempstead's ___. Thank you.
Sorry, Dom. There won't be any news here on that subject for a few weeks. Unlike other places, I don't invent this stuff. You need people to talk. This site was ahead of everywhere else on Hempstead's Lighthouse pushback by more than 48 hours. You could ask the Islanders or the Lighthouse group, but as you know, they've hardly said a word since opening night of last season.
On Wednesday, Nassau County Executive Edward Mangano is hosting an open forum at the Long Island Marriott seeking the public's "input to help plan for future transportation options to serve the Hub." This event has been scheduled for weeks and Mangano has been a friend to the Islanders lately. Yet the team so far has not utilized its own resources like its Twitter account and website to promote the event. The event is from 6-8:30 pm.
Wild to think that about ten months ago, the Long Island Press reported that the Lighthouse Project office had been shut down and several staffers re-assigned. The story was written by Michael Martino, who now heads the press office of…Ed Mangano.
*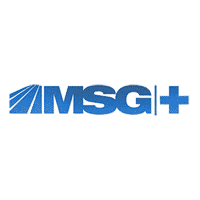 More than two weeks after the news broke about the Islanders' blocking of MSG Network's new contract for Islanders analyst Billy Jaffe – Cablevision-owned Newsday confirmed PB's report that it was the team's call – a replacement has not been named. Keep in mind that when MSG acknowledged the Jaffe sacking on July 23, the network said in a statement that it would "announce a new Islanders TV analyst in the near future." I still don't understand why the network didn't have its (likely) popular choice as a successor to announce simultaneously and minimize, if not completely stifle any Jaffe backlash.
I hope the ground rules for the new hire are being presented by the Islanders during the interview process. Before accepting the job, it's only fair that the new commentator understands what he can and cannot say and whom he can and cannot speak with.
If you think this is just conjecture and not fact, watch the broadcasts during the 2010-11 season. Perhaps, in a twist on the drinking game, we can donate money to a charity for every discouraging word on the Islanders' broadcast.
Another insider's theory: the Islanders are pushing for a short-term deal for a new analyst so he could keep the seat warm for someone else who could be available in a year or two. Either way, MSG Network – which will pay the Islanders more than $20 million this season – was not pleased that the Islanders eliminated the popular and league-wide-respected Jaffe after they executed a multi-year contract with him.
*
In other news (cough), still no contract announcement for Doug Weight? The captain still not listed with the other 11 forwards on the Islanders' website?
It has been two months since Doug texted Pierre Lebrun to confirm he had reached an agreement with the team to play for another season. Hmmm…The Islanders don't want to make it too obvious that their bonus-filled contract for the captain will get them to the salary cap floor, do they?
*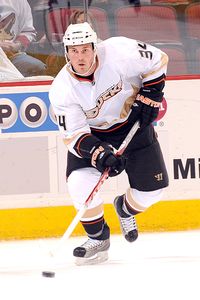 When you look at the long list of acquisitions during the NHL offseason, Garth Snow's trade of a conditional third round pick for defenseman James Wisniewski stacks up – value for value, or really value for crapola – as easily one of the top ten moves in the league this summer. Maybe top five.
More good news on the blueline as Radek Martinek has been 100% since the beginning of the summer. The veteran defenseman has had bad luck with injuries the last few years, but when healthy is a very capable No. 4 defenseman who can log 22 minutes.
*
Funny thing happened when I had a lengthy interview with Rick Dudley for a three-part series on his overhaul of the Atlanta Thrashers. Prior to the draft, few scouts had future Islanders right wing Nino Niederreiter in their top five. However, when I asked Dudley about his selection of Alex Burmistrov with the eighth overall pick, he was kind enough to volunteer the identities of the other young players his staff was looking at.
"Right after the top two of Taylor Hall and Tyler Seguin, who we knew we couldn't touch even with a trade up, we had three forwards in what we considered the next group: Burmistrov, and the two kids with Portland (WHL) – Ryan Johansen and Nino Niederreiter. We loved Niederreiter's skill and battle level. There's no question in my mind that the Islanders got a good one there."
For many years to come, it should be fun to follow the flock of forwards chosen around the El Nino pick. While they may have different styles of play, all are players with offensive ability:
4. Ryan Johansen, Columbus
5. Nino Niederreiter, Islanders
6. Brett Connolly, Tampa Bay
7. Jeff Skinner, Carolina
8. Alex Burmistrov, Atlanta
9. Mikael Granlund, Minnesota
That's what makes the draft so fun.
*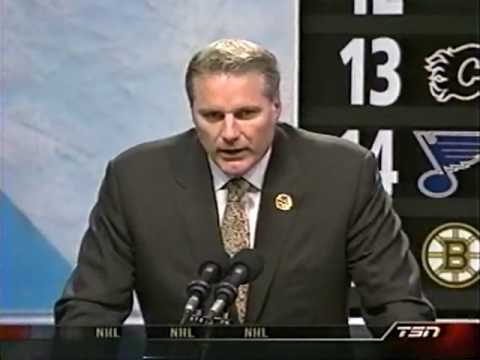 Garth Snow continues to tell his inner circle that his attempts to land a top-six forward for the Islanders are far from over. As you know from following the daily transactions around the league, business is still being conducted. Gone are the days when hockey operations departments went quiet from late July through most of August.
For all the die-hards hitting the official team site, Twitter and Katie Strang's blog every hour, my hope is the Islanders make an acquisition of impact. Snow is rightfully proud of his team's 18-point improvement last season, but has to know those last ten points to be a legit contender in the Eastern battle for 6-7-8 are the hardest. If Snow can pry a scorer loose at a price similar to what he paid for The Wiz, it would greatly enhance the Islanders' chances of returning to the Stanley Cup playoffs.
*
Anyone remember this quote?
I tend to agree that most people on the outside didn't have much belief in us. But the guys in the room and the people in our management group believed in this team. We knew if we played to our capabilities we'd have a really good shot at being where we are now, if not even a little bit better.
That was Garth Snow to Mike Brophy of Sportsnet, as the Islanders went on a roll and climbed to three games over NHL .500 in mid-January at 23-20-8. The Islanders proceeded to go 3-12-1 in their next 16 games, but that's not the point. The quote is proof that Snow wasn't strategizing to see his team end up with a top-5 draft pick. The quote is proof that the general manager had much higher expectations.
Whether you agree with Snow's assessment of his roster or not, for 2010-11, the pressure will be on Scott Gordon to get this team into the playoffs.
*
Point Blank has learned that the Islanders are looking to have one of their second-half games serve as a tribute to Michael Mulhall.
The 22-year-old Michael – an Islanders fan, hockey player and Camp Anchor counselor – was killed in a car accident last month on the Meadowbrook Parkway along with Jamie and Paige Malone. We wrote about Michael here. Very, very good on the Islanders. Stay tuned for details, and let's work together to make sure the game is sold out.
*
Just like this time last year – but for completely different reasons – Point Blank will mostly disappear for the next four weeks. I ventured to provide August Islanders player profiles like the one on Kyle Okposo on FanHouse and here, but it was not meant to be. That's understandable (you can't please all the bloggers), and fact is I could use the break. Instead, it's time for some vacation, an oblication, to conduct some business and take up AOL FanHouse on their invitation to cover the U.S. Open in Flushing Meadow. As a longtime tennis player and follower, I'm really looking forward to that experience.
If the Islanders do something big, either I'll pop on if near a computer or perhaps a guest writer will provide a recap and his or her insight. To talk about it with fellow fans, the few of you who haven't already should sign up for Islandermania. Although it is no longer the official message board of the Islanders, I'm not aware of a better place for fans to congregate on the internet. I also hope that I have not failed in my mission to encourage all Islanders fans to read and comment daily at Lighthouse Hockey, Dominick's invaluable blog about the team on SB Nation.
When Point Blank starts up again in earnest about a week before the opening of NHL training camps, I should have an additional sponsor. I'll do my best to provide some different stories out of Islanders camp in New York. During the season, you may see some changes in how I approach the blog – hopefully, all for the better.
I'd like to thank my family, friends, colleagues, the AOL FanHouse staff and especially Point Blank readers for putting up with me during my true rookie year on a different side of the business. For those of you who may have understandably given up, maybe someday I'll figure it out and win your respect back. Thanks also to the 90% of PB readers who religiously do not waste any of our time with rumors from blogs with uzz in the title.
While I'd like to go back and fix my mistakes, I wouldn't change a thing about the opportunity I have been provided. The reason I have the opportunity is you, so thanks again from the bottom of my heart. Enjoy the rest of the summer and I'll see you soon…CB
Comments relevant to this post are invited. Here are the Comment Guidelines. The forum will be shut down by Wednesday night. Thank you.
---
---
---
---