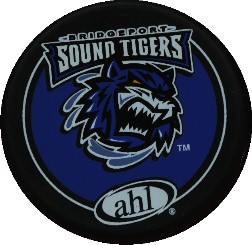 9:45 pm, The Arena at Harbor Yard: After an unimpressive first two periods and trailing 1-0, Bridgeport woke up at the start of the third. Mike Iggulden tied the game at 2:26 of the third off a great shift by his line with Trevor Smith and center Kurtis MacLean. Seven minutes later Iggulden scored the go-ahead goal, from Brett Skinner and Andrew MacDonald and then added the empty-netter.
Bridgeport out-shot Albany, 33-22, including 13-7 in the third. Yann Danis was excellent in goal for the Sound Tigers. Blake Comeau led his team with 5 shots. Three Stars: 1. Iggulden   2. Danis    3. Albany G Justin Peters.
Our grades (on tonight's game only) for the Islanders prospects you want to know about:
Blake Comeau: B+
Jesse Joensuu: B
Trevor Smith: B+
Dustin Kohn: B
Tomas Marcinko: B- 
Rob Hennigar: C
Jeremy Colliton: B+
Yann Danis: A-
Mike Iggulden: A
The Comeau-ver (sorry, I liked that one): On the lonely drive from Uniondale to Bridgeport, Blake Comeau got a call on his cell. It was Sound Tigers coach Jack Capuano, knowing this was one welcome-to-the-team call the recipient wasn't ready to hear. So he simply told the Islanders prospect, sent to the AHL that day because he couldn't crack the system or the lineup, "Let's sit down and talk for a bit when you get here."
Since that meeting, Comeau – in Capuano's words – "has done everything that Garth (Snow) and Scott (Gordon) could have asked of him." In his first game, last night in The Home of The Office, Comeau "moved the puck, skated and was physical. His focus and his midset were outstanding. He was prepared and ready to go."
Comeau was ready to go with J.P. Cote of Wilkes Barre/Scranton last night after Cote hit Tyler Haskins high with a shoulder. If there were any questions about Comeau's commitment to the Sound Tigers, the fight ended all discussion.
"Blake's got some work to do and we're going to help him," Capuano told Point Blank before the game. "Here's what you need to know: everyone in this organization, here and on the Island, are huge fans of Blake Comeau's. As much as any player I've ever met at any level, this kid badly wants to win. Whether he's with us or the Islanders, he'll put team first. That's why I know he's going to be fine."
Bound for the Coast: The Sound Tigers are scratching three healthy players a game, and that's before they get some injured players back. As a result, some players will have to be designated to Utah of the East Coast Hockey League. The bright side is two of Bridgeport's best players so far this season, Trevor Smith and Andrew MacDonald, benefitted from some quality time last season in the Coast.
"Scott and I both coached in the ECHL and are big advocates of the league," said Capuano. "Like Trevor and Andrew have proven, the Coast can make you a better player if you put the work in."
Pre-Game Plan: Point Blank had the privilege of sitting in on the Sound Tigers' pre-game meeting – 15 minutes instruction, positive reinforcement and video. Capuano: "Guys, let's get pucks to the paint and converge on the paint. Tomas (Marcinko), where did you get your goal last night"? Marcinko: "The paint."
As draining physically as it must be for AHL players to take part in three games in less than 72 hours, the toll on the coaches should not be ignored. The Sound Tigers played Friday night in Scranton, got home at 3 in the morning, played tonight and host Philadelphia (at 4:00 pm!) on Sunday. As much as we understand every franchise wants their home dates on weekends, we've always wondered if 3-in-3 has too much downside for player development…and health.
Yes to Jesse: Former Sound Tigers and Peoria (AHL) coach Dave Baseggio was at the game. About Jesse Joensuu, the Islanders' 2006 second round pick from Finland, Baseggio said, "Big kid with good instincts. With some work on his skating and quickness, he'll play. You can definitely see the potential there."
Capuano told me he wants to see Joensuu "utilize his size more, and his shot, which is exceptional." The prospect sat with Capuano on the ride home from PA last night to go over some video.
Notes: The Sound Tigers are not issuing an official update on defenseman Chris Lee, carried off on a stretcher in the Islanders' final pre-season game 12 days ago, but he has yet to resume skating. The team is also missing playmaking center Ben Walter (knee) and rugged forward Michael Haley (hand). Neither has made their regular season debut.
Healthy scratches: Long Island's Vladimir Nikiforov, enforcer Joel Rechlicz (has not played a game yet) and dman Andy Sertich.
I asked Capuano before the game if he was instilling Scott Gordon's system a little bit at a time. He said, "No, we're committed to it now. We started working on it the first day of our camp." I asked the Bridgeport coach when was the last time he spoke with Gordon. He looked at his watch and said, "About an hour and a half ago." 
Real nice touch with the home opener intros by the Sound Tigers game ops staff. Instead of just name and number, the PA announcer gave fans a few sentences of detail on each player – when the Islanders signed or drafted the player, his college or junior team, hometown, etc. Took a little longer, but it was worth it. Well done…
Congrats to Logie for being the first of us to correctly guess that Rick DiPietro would start a game this season…Amazing that one of the referees of the game in South Florida tonight is another guy named Chris Lee.
THE LINEUP
Smith – McLean – Iggulden
Bentivoglio – Colliton – Jackman
Comeau – Hennigar – Joensuu
Pitton – Haskins – Marcinko
Skinner – Callahan
Kohn – McDonald
Fraser – Wotton
Danis
Mannino
Thank you to everyone keeping me updated on Islanders-Panthers tonight. Keep those Comments coming all night.
---
---
---
---