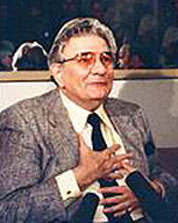 4:10 pm, The Rock – A few notes, a prediction and an opportunity to make your pick prior to tonight's season opener…
The Mystery Line: Of the Islanders' four lines tonight, the one I'm most interested in watching is Bergenheim-Thompson-Okposo. That's a high-energy line and a young one, with the left wing and center the vets at age 24. And how can you not be intrigued by the addition of a waiver wire pickup who played for Scott Gordon in the minors, centering two Islanders' first round picks?
But the line I can't figure out is Richard Park centering Mike Comrie and Andy Hilbert. On paper, it's tough to know what to expect. I asked Park to break it down:
"Andy and I will play hard at both ends of the ice and hopefully that leads to MC having time and space and getting good looks," he said. "The thing is, the coaching staff is not asking us to do something all three of us haven't done our entire careers."
That's true in terms of assignments and also in positions. Park has played center plenty in his long career and Comrie had some success on the left side in Ottawa.
MacUp: Joey MacDonald is well-prepared for the possibility of going long stretches between starts. He served an apprenticeship with the Detroit Red Wings when they carried three goaltenders. MacDonald was No. 3 to Dominik Hasek and Chris Osgood.
"It was a great experience," said the 28-year old MacDonald. "I got to work alongside two all-star goaltenders every day. I learned so much from them. Some games, I'd just take a seat in the stands and take mental notes. Of course, you want to play as much as you can but I understand my role and I'll be ready."
MacDonald prepared for the opening of training camp by taking one-on-one instruction from Islanders goaltending consultant Sudarshan Maharaj for a week in Toronto. "Sudsie really got me ready," he said of the 90-minute daily sessions. "I came to camp feeling as good about my play as ever. Now my approach is real simple – I have to prepare myself like I'm playing every game. It's all about staying focused."
"NY Hockey This Week" set for 5:30 pm Saturday: The 1050 ESPN Radio hockey show I co-host with Don La Greca finally has a locked-in time, for this week at least. "NY Hockey This Week" will be on Saturday from 5:30 – 6:30 pm. One of our guests will be Islanders GM Garth Snow. Since Don will be in Philadelphia getting ready to call Rangers-Flyers we are recording the show a few hours earlier and will be unable to take phone calls. However, after tonight's game I'll post an entry where you can write your questions for Snow or Don and I. Thanks for listening.
PREDICTION TIME!
The Devils bring back Brent Sutter and most of last season's lineup, adding Brian Rolston and Bobby Holik, and are 100% prepared to play the Devils' Way. The Islanders are dressing two new centers (Doug Weight and Nate Thompson), a new No. 1 quarterback for the power play (Mark Streit) and working in some kids (Tambellini, Nielsen, Okposo, Hillen). All while working on a new system.
Have to believe it's a bigger edge to the more established Devils. Even Scott Gordon admitted yesterday that in his perfect world, he could have used a few more days of training camp. An exciting game with some big hits, a scrap and good goaltending early on. The Devils get one more on the power play and an empty-netter.
Devils 4, Islanders 2.
What's your call on tonight's final score?
---
---
---
---