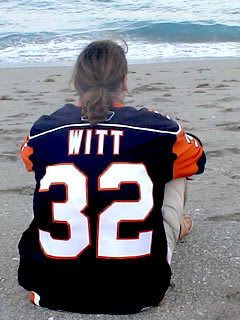 If Brendan Witt is traded between now and March 4, it could be done in one of two ways:
A. The simple version: straight up for a draft pick (likely second round) and a prospect. Or…
B. A more complicated version. The $3 million that the rugged defenseman is owed each of the next two seasons presents a problem for some teams lusting after him. However, Islanders GM Garth Snow and his counterparts can get creative.
In one scenario, the Islanders would have to take a contract back – a player making in the $1-2 million range – to give relief to a team in salary cap trouble. The motivation for the Islanders? The proposed second round pick would have to be upgraded to a first, the proposed B prospect would have to be upgraded to at least a B-plus. Maybe the veteran the Islanders are "forced" to take is a good try for the system, or maybe not.
Still a tough call to see which way this could go, but know that interest in the 34-year old defenseman has increased considerably over the last week and conversations will intensify over the next 9 days.
As much as the Islanders like Witt, another reason the club is listening to trade offers might be that additional dollars would be freed up for an unrestrictive free agent signing. Although the Islanders may not find another Witt – a unique, old-school defenseman with unparalleled guts – NHL free agency beginning at age 26 changes the landscape. The Islanders could throw crazy dollars at a much younger defenseman who could be a better fit in Scott Gordon's lineup and for year 2 and beyond of Snow's rebuild. Could there be room for both Witt and a free agent? We're not so sure.
But there is this Original Six kid from Long Island, all of 27, who could be one of just many players available. If you're rebuilding and want to get younger, these are the kind of difficult decisions you're faced with.
You play GM. Pick option A, B or C (no deal). Each reader gets only one Comment in this thread. We'll tally the results at the end of the day.
---
---
---
---